Points of Light Award
Published on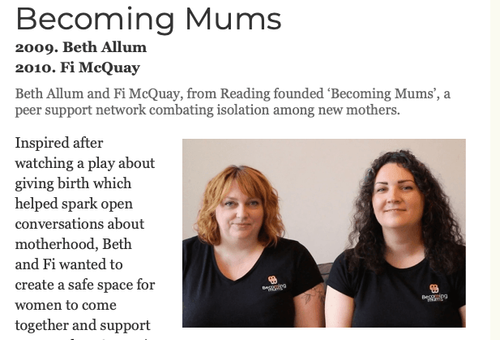 Becoming Mums received the 2009th & 2010th award from Prime Minister Rishi Sunak in March 2023 for their work on maternal mental health.
We were so thrilled to receive The Prime Ministers Points of Light Award in March 2023. The award recognises 'outstanding individual volunteers – people who are making a change in their community. Every week day the Prime Minister recognises an inspirational volunteer with the daily Points of Light award.'
We are thrilled to be recognised with a Points of Light award. We are really proud of the organisation we have built and the community it has formed. It was something we needed ourselves, and in the past 6 years have found that hundreds of others did too. Maternal mental health struggles are often invisible, hidden behind closed doors, so awareness raising like this makes a huge difference. Thank you so much.
You can read more about it here : https://www.pointsoflight.gov.uk/becoming-mums/